Virtual International Day of the Midwife 2023
Discover the VIDM 2023 Programme, exploring midwifery's future, technology's impact, collaboration, and innovative practices in a post-pandemic world.
The Virtual International Day of the Midwife (VIDM) has come a long way since its inception 15 years ago, when its founder Sarah Stewart started the event at her kitchen table. Over the years, it has grown exponentially, especially during the global pandemic, leveraging the ubiquity of virtual conferencing to reach thousands of people worldwide. The VIDM 2023 Programme is set to begin on the 5th of May at 0:00 CET (4th of May at 22:00 UTC), with a diverse range of sessions and speakers from different fields within midwifery.

The event's founder, Sarah Stewart, will deliver a presentation titled "Onwards and upwards: Turning a pandemic into midwifery opportunities." Stewart will reflect on the lessons learned during her years of facilitating the VIDM, focusing on leadership, collaboration, and innovation, which she believes are critical elements for shaping midwifery and women/people-centered care in the post-pandemic world.
The VIDM 2023 Programme is filled with insightful presentations and discussions that cover various aspects of midwifery. The sessions emphasize the importance of evidence-based practice, the role of technology, and the need for community engagement. One notable session will explore the challenges faced by midwives in rural areas, highlighting the importance of accessibility and the provision of quality care. Another discussion will delve into the benefits of interprofessional collaboration, emphasizing the need for teamwork and cooperation among different healthcare professionals.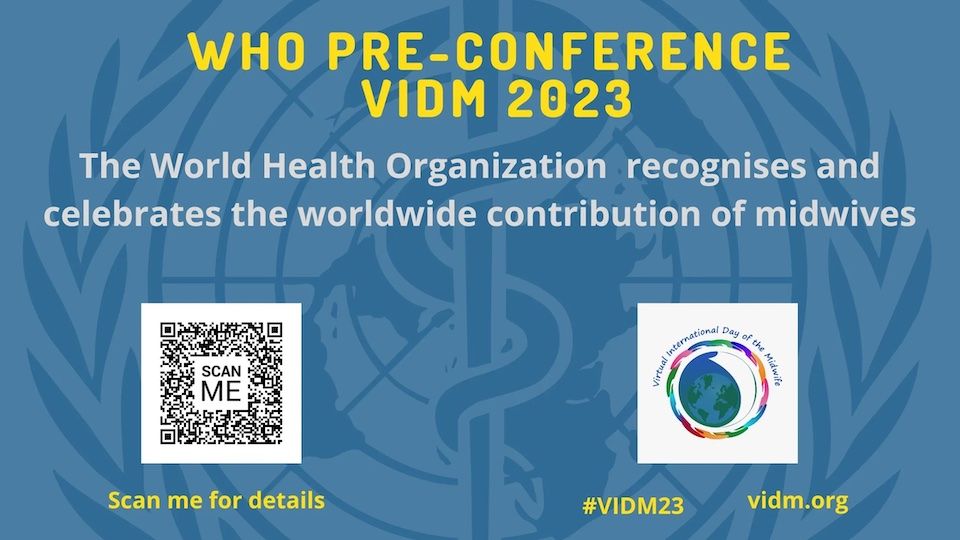 Image by VIDM WHO, Pre-Conference Event
The role of technology in midwifery will also be a significant focus of the event, with sessions exploring the potential of digital health solutions in enhancing care provision. Innovations such as telemedicine, mobile apps, and virtual reality can help overcome geographical barriers and improve access to healthcare for pregnant women and their families. Speakers will discuss the challenges and opportunities presented by these technologies, as well as share their experiences in implementing and evaluating their effectiveness in real-world settings.
In addition to presentations, the VIDM 2023 Programme includes interactive workshops designed to foster collaboration and knowledge exchange among participants. These workshops will provide a platform for midwives and other healthcare professionals to share their experiences, discuss best practices, and learn from one another. Topics covered in the workshops range from practical skills such as suturing techniques to more theoretical concepts like cultural competency and evidence-based practice.
The VIDM 2023 Programme is also an opportunity for attendees to learn about the latest research in midwifery. Several sessions will showcase recent findings and explore their implications for practice. Research topics include the impact of midwifery-led care on maternal and neonatal outcomes, strategies for reducing maternal and infant mortality, and the role of midwives in promoting mental health and well-being.
The event is not only limited to healthcare professionals, as it also offers sessions dedicated to pregnant women, their families, and the general public. These sessions aim to raise awareness about the importance of midwifery care, provide information on pregnancy and childbirth, and promote self-care and well-being during the prenatal and postnatal periods.
As the VIDM 2023 Programme comes to a close, participants can expect to have gained valuable insights into the current state of midwifery and the opportunities for its future development. The event's focus on leadership, collaboration, and innovation highlights the need for midwives and other healthcare professionals to work together, adapt to new technologies, and embrace evidence-based practice to improve maternal and neonatal outcomes worldwide.
It is evident that the VIDM has evolved significantly since its humble beginnings, reflecting the increasing importance of virtual conferencing in today's world. The event demonstrates how a global pandemic, despite its devastating effects, can also present opportunities for growth and transformation. By bringing together professionals, researchers, and the public in a virtual setting, the VIDM has managed to create a global platform for the exchange of knowledge and ideas, fostering the development of midwifery as a critical component of healthcare.
As the world continues to adapt and recover from the challenges brought about by the pandemic, it is crucial for events like the VIDM to continue championing the cause of midwifery and women/people-centered care. The lessons learned from these virtual conferences will undoubtedly contribute to the ongoing improvement of maternity care services worldwide, ultimately benefiting pregnant women, their families, and communities at large.
The Virtual International Day of the Midwife 2023 Programme serves as a shining example of how perseverance, adaptability, and collaboration can turn challenges into opportunities. By leveraging virtual conferencing and embracing technology, the VIDM has managed to expand its reach and impact, proving that even in the most trying of times, progress and innovation can still be achieved.
The event's success serves as an inspiration for other organizations and professionals to embrace change, leverage technology, and forge new connections, all in the pursuit of better care and outcomes for mothers, infants, and families worldwide.
Source: VIDM